Reception Classes
Taught by Mrs Sue Musgrove and Mrs Anne Pettifer.
Good morning! It's the start of a new month and a new term and we were supposed to be starting to see each other this week. Seems like Covid-19 had other ideas!
Those pesky pirates took advantage of us not being in the school and they've been back in again, cheeky things! They left us a note saying that they still had not found the treasure and their Captain was getting very cross with them and has even threatened to make them walk the plank into the duck pond!!!! The pirates really don't want to get wet (they can't swim very well) so they have asked for your help. Can you make a beautiful collage picture that they can show the Captain and make him happy so he forgets about making them walk the plank? Have a look at this week's home learning sheet for a bit more information about what you can do. We're really looking forward to LOTS of lovely photos of your arts, crafts, maths and writing this week as you discover the Pobble 365 website - it's such fun!
Let's see what some of you have been up to...
It looks like the sun might be taking a little break towards the end of this week - boo!
Whatever you get up to, stay safe, stay in touch and stay happy! X X
Mrs Musgrove - smlbis2068@gmail.com
Mrs Pettifer - aplbis2068@gmail.com
________________________________________________________________________________________________________
It's half term!!! Although it doesn't really feel any different does it? It looks like being very sunny so, as well as staying virus safe, please make sure you stay SUN safe too! Always wear a hat and sun cream when you are outside - we want you back next week please!
Here's a round up of the fabulous things you have been getting up to over the past week - we keep being totally amazed by how wonderful you all are. We'd love you to keep the photos coming after we start back at school so we can see the great work you're doing on your not-in-school days.
Have a lovely week and we look forward to finally seeing you back in school from Monday. We can't wait!
________________________________________________________________________________________________________
And...whoosh!!! Another week zooms past. We hope you have been keeping busy, having lots of fun and staying safe. We have been very busy in school and we think the pirates have been close by but we never quite seem to catch sight of them. Sneaky things! They must not have found their treasure yet. I wonder if you can help them? This week's pirate job is to make a map of your home so maybe the pirates can use it to help find their lost treasure? What do yo think? Have a look at the home learning sheet for more...
We have been loving all the photos you've been sending - you have made some very fine pirate food! It all looks yummy! And you have been doing soooo many other fun things too! Take a look....
We hope we get to see you all again really soon - ask your grown ups to keep an eye on the app and on the website for information as we get it.
Stay safe and stay in touch. X
Mrs Musgrove - smlbis2068@gmail.com
Mrs Pettifer - aplbis2068@gmail.com
________________________________________________________________________________________________________
Good morning! We hope you had a great sunny weekend and that you were able to celebrate the 75th anniversary of VE day with your households. In school we made cakes and had a socially distanced tea party in the classroom.
You have been sending us lots of fab photos and we have been so pleased to see how many of you have embraced and enjoyed our new pirate topic - keep up the great work.
Let's see what you have been up to.....
This week the pirates have been getting hungry so we would like you to help them out with some pirate food - we are really looking forward to seeing what you come up with!!
Stay safe and hopefully we will see you soon.
Mrs Musgrove - smlbis2068@gmail.com
Mrs Pettifer - aplbis2068@gmail.com
________________________________________________________________________________________________________
And another week begins! Let's hope its a bit nicer and sunnier than last week!
We have been so pleased by all the fab pictures and videos you've been sending us of all the different things you've been doing - you all seem to have really liked our new topic, Ahoy There, and thrown yourselves into all things piratey!
Have a look at what you've been up to...
What a bunch of superstars! Your job this week to help the pirates is to think about floating and sinking. The lost treasure was made of lots of different things like paper, plastic, metal and material and was in a wooden box so they are wondering if, in case the chest got dropped overboard by accident, would the chest or any of the treasure float to the surface for them to find? What do you think? Let us know!
Have a lovely week, stay safe and keep sending us your lovely pictures! See you next week!!
Mrs Musgrove - smlbis2068@gmail.com
Mrs Pettifer - aplbis2068@gmail.com
________________________________________________________________________________________________________
Good morning! What a lovely sunny week we had last week! We hope you were able to get out and enjoy some fun in the sun. We've had some lovely photos of the fabulous work you have been doing - have a look...
We've also had a few videos sent in - what superstars you all are!!
Wow!!! You are all amazing! Keep up the good work! Your new home learning sheet is below and your pirate challenge this week is to make a game to keep the pirate captain happy whilst the pirates find his treasure. Keep sending us your fab photos and stay safe - we miss you!!!
Home learning sheet 27th April
Mrs Musgrove - smlbis2068@gmail.com
Mrs Pettifer - aplbis2068@gmail.com
________________________________________________________________________________________________________
Welcome back to a new term and some new ways to share our learning. We hope you all managed to have a lovely Easter despite the lockdown and didn't eat too much chocolate (Mrs Pettifer certainly did!!).
We just had to share with you something strange that happened when Mrs Pettifer went in to water her plants last week. Whilst she was filling up her watering can, she heard a noise in the outdoor area. It sounded like arguing so she called in Mrs Musgrove and they went to see what was going on. As soon as they called 'Hello?' there was a loud clatter and the sound of running feet - it was very strange. In the outdoor area, there were toys ALL over the floor and as she looked up, Mrs Musgrove could see what looked like two pirates!! The teachers ran down the field after them but the sneaky pirates were much quicker and jumped over the fence, into forest school and away into the trees. As they ran, the teachers could hear them talking about their captain who was going to be very cross with them for losing the treasure. There was something about a missing crown too! We'll have to see whether the pirates come back looking for their treasure again. Perhaps you could keep an eye open for them around the village too?
Just in case they do come back, we have given you a pirate activity to do on your first home learning sheet. Click on the link below to see the sheet. We will put up a new sheet each week with different things you can do with your grown ups. We'd really love to see any photos of the work you do and will try to have a gallery each week to show what you have been up to.
Most importantly, we would like you to play lots, just like you do in school, and have fun. This virus thing looks like it's going to be keeping us apart for a while and we really do miss you all. Stay in touch and let us know what you have been up to. Also, your grown ups can contact us if they have any questions. Our email addresses are;
Mrs Musgrove - smlbis2068@gmail.com
Mrs Pettifer - aplbis2068@gmail.com
Stay safe everyone, enjoy the sunshine while it lasts and we hope we'll see you soon.
Home learning sheet 20th April
_______________________________________________________________________________________________________
Well! That wasn't how we expected to finish the spring term! As we start what should have been our Easter holiday, we haven't seen you all for more than two weeks and we really, really miss you! We are happy to report that everyone is well and we hope that all of you and your families are still safe and healthy.
We have been sent some lovely pictures of some of the work you have been doing during the lock down. It has been fab to see how you have embraced the change to how you are learning. Keep sending us photos and we will try to put them up to show everyone what you have been up to.
It is Easter at the weekend so have a lovely week - the weather should be getting better so we can all get out in our gardens to play and relax a bit more. Stay safe everyone - we want you all back here as soon as we are allowed!
Take care!!
_______________________________________________________________________________________________________
After half term we started a new topic called Fur-Ever Friends. We welcomed pets into the setting for our pet day. The children had great fun observing the rabbit, guinea pig, hamster and giant African land snail. We looked at their features and compared the animals. We wrote some lovely patterned poetry and produced some amazing cat paintings. The children worked so carefully with the watercolour paints. We are very proud of them.
_______________________________________________________________________________________________________
Spring is here. The Naughty Bus arrived in our classrooms as a present from the little girl on the train. We had fun exploring this story and looking at the way it was written. We made video stories about the Naughty Bus and decided where he was going to go and what he got up to. The children had great fun imagining scenarios, building sets and choosing backing tracks to go with their story.
Thinking about what we had seen on our walks around the village, we made maps to show the features in our immediate environment. We did this in the outdoor area by making models of the buildings we had seen and also by making 3D maps with paper.
Have a look at some of our lovely work.....
We decided to celebrate the end of the topic by having a DRIVE THROUGH MOVIE. The children turned their large cardboard boxes (a big thank you to the Co-op) into cars and then sat in them to watch the film 'Cars'. Staff served them drinks and popcorn! We all enjoyed this topic!
_______________________________________________________________________________________________________
So, the clocks have gone back and we are moving firmly through autumn towards winter and that thing that starts with C but we won't mention yet!
In Reception we started this term with a week all about festivals and traditions. The children learned all about Diwali and why some people celebrate it. The had a lovely time creating their own Mehndi designs for their hands and acting out the story of Rama and Sita. Then they learned about why we celebrate with bonfires and fireworks in November, creating some lovely firework pictures.
On Monday, the children learned all about Poppy Day and why it is important to remember all service personnel, past and present. They made some beautiful poppy art work including this lovely giant poppy in the outdoor area.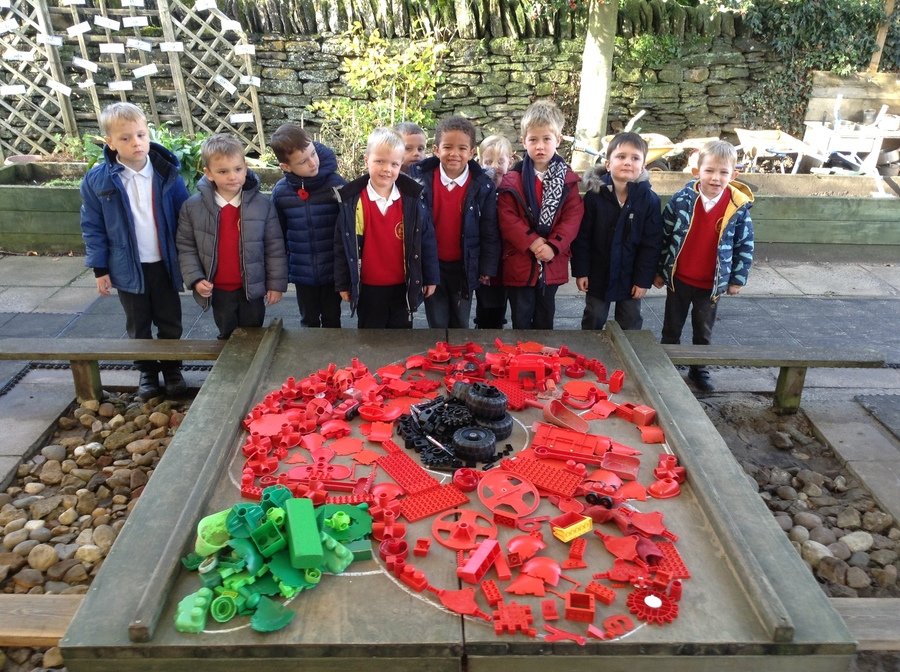 __________________________________________________________________________________________________
This week, the children have also found out what our new topic is. On Monday afternoon, we went for a walk through the village to the train station to launch our topic 'On The Move'. The children loved making echoes in the tunnel under the line and climbed all the stairs to Platform 2 really well. Once there, they talked about what we could see around us and times when they had been on a train to go to places - the favourites were definitely London and Birmingham.
Whilst we were at the station, three trains stopped at the platforms - two on our side going towards Birmingham and one on the other side on it's way south. The children were so excited to see the trains, especially when the driver of one of the trains gave them a toot as his train pulled out.
Then, on Tuesday morning, there was a strange suitcase left behind in our new train. The children wondered who could have left it there and, after some discussion, decided to open it to search for clues. Inside was a dress and some tights, some shoes, a book and a wrapped present. The children decided that the suitcase must belong to a little girl who was going to see a friend for their birthday. They tucked the suitcase away somewhere safe until she comes back for it. They thought that she wouldn't mind if we borrowed her story book, The Train Ride. They have had a fun few days playing in the train and the ticket office and have made a ticket machine and some lovely signs to show people where they need to be. We are all looking forward to seeing where we go in this fab travel topic.
The leaflet for this topic is here if you would like to know a little bit more, including learning at home ideas.
Lastly for now, a big thank you to the parents and carers who came to our Phonics Information presentation on Monday evening. We hope it gave you all some useful information and answered your questions. If you were not able to make it and would like to know a bit more, have a look at the presentation here.
________________________________________________________________________________________________________
What a busy first term we have had!! The children have settled so well into school life and have been learning so many new things!
Our topic this term has been 'Magical Me!'. We have found out so much about each other, with some lovely timelines brought in to introduce us to different members of our extended families.
Gardening afternoon was a roaring success, with lots of sunshine and giggles as we brightened and tidied the outdoor area ready for more learning. It was good to see the children taking some responsibility for the environment and hope they will continue to look after it and treat it respectfully.
We held our Foundation Stage information evening to give parents an overview of what we are teaching and how their children are learning in Reception. Click here to see the short presentation we ran. It was lovely to see such a good turn out.
We have started to learn how to count accurately and order numbers as well as working out how to correctly form some key letters, such as those in our names and the 'Jumper' family from Kinetic Letters (please do ask if you would like to know more about Kinetic Letters or have a look here).
We have also been working on lots of key skills such as using an iPad correctly and cutting accurately with scissors, alongside learning the rules that make our setting a safe and happy place, 'Kind hands, kind feet and kind voices'. They have also loved their PE lessons where they have been learning not only about different ways to move but also how to set up and store PE equipment safely. We have been amazed by how daring some of the children have been - climbing to the very top of the 'jam sandwich' and leaping fearlessly from the top of the tallest gym box. Wow!
Recently we have also been talking about how to keep healthy. We have talked about how to wash our hands correctly and how and why we brush our teeth. We also made some super healthy snacks including yummy vegetable soup which we tasted and decided,by voting, that most people like it lots!
We have also had some lovely extra experiences:
Baking cakes for the MacMillan Coffee Morning and helping raise money for this amazing charity. Many children were lucky enough to taste some of the cakes they made with their parents and carers at the event.
Indian dancing with the lovely Mrs Patel - the children came back from each session with HUGE smiles on their faces - they loved the flowing movements.
Visiting Mill Park to learn about autumn and look for signs that the season is changing. They made leaf kebabs and creatures from natural materials, compared lengths of sticks, sang autumn songs and had immense fun playing some parachute games.
Have a look below to see just a few things we have been up to and see for yourself how much fun learning in Reception really is!