Collecting Work and Dropping Off Books
If your child did not return to school this term please could you ensure that you return any reading books you have at home and collect any belonging they have, such as books and P.E kits from school on Wednesday between 9.30am and 2.30pm. A member of staff will be in the car park area with all their belongings. Please bring a bag with you as there may be a few books to carry. Please email the class teacher to let them know you are planning to come and collect, so they can ensure they have everything ready for your child.
We would like to take this opportunity to wish you a nice summer and we look forward to seeing you all in September.
Best wishes
Becky Wigston & Emily Batt
etlbis2068@gmail.com
Home learning 29th June - 17th July
Instead of setting weekly activities for the children over the final three weeks, we have set them three booklets. There are a variety of activities suited to all abilities.
If you complete these please look on the BBC Bitesize website for more ideas and activities.
Shortly we will be letting you know about the end of year arrangement, including when you will be able to collect your child's workbooks and drop off their reading and library books. Once we know anymore information about this we will pop it on here for you to read. In addition to this you will be receiving a letter informing you of classes for the next academic year along with your child's school report.
Thank you all for your support during this very strange time!
Becky Wigston & Emily Batt
Click Here - Addition and Subtraction Booklet
Click Here - Maths Activity Pack
Click Here - English Activity Pack
Rainbow Words
Listed below are all of the Rainbow Words. If you would like to work through these by reading and spelling them please click on the set you need. This would benefit your child enormously before starting Year 2.
Year 1 Words to be read and spelt
Year 2 Words to be read and spelt
Home Learning 22nd June 2020
Good Morning,
This week we are concluding our work on The Gruffalo. We would like the children to write the story, using full stops, capital letters, neat handwriting and fantastic adjectives. We have included a template for the children to write this on but if you have difficulties printing this out please do not worry, just use paper.
We would also like to encourage the children to dip into the BBC Bitesize Daily Lesson as this is a fantastic resource for the children to use.
Keep Well!
Becky Wigston & Emily Batt
Click Here for Reading Comprehension
Click Here for Writing Template
Home Learning 15th June 2020
Good Morning,
We hope you are all well!
This week we have added a set of worksheets for the children to follow. These include some addition and subtraction worksheet, speech bubbles, phonics and handwriting.
The children can work through these over the next week that would be great! Remember you can still send the work into us via email.
In addition to this there are a number of brilliant resources on the BBC Bitesize website.
Keep Safe!
Becky Wigston & Emily Batt
Click Here for Home learning - Week Beginning 15th June
Additional Home learning 8th June 2020
We are really pleased to be back in the classroom and although some of you are unable to join us, we don't want you to miss out.
For those children who are not attending school, the link below is a list of activities we are doing in the classroom this week. if you would like to have a go at any of them, please do. This is in addition to the work we set last week.
Take Care
Mrs Wigston
Ms Batt
Click here - Addition weekly activities
Home Learning - 1st & 8th June 2020
We welcome you back to the last term of the year!!
It would've been lovely to have seen some of you this week, but sadly this cannot be the case, instead we will continue to add work on here for everyone to complete.
This week we are setting two booklet, a fractions booklet for maths and a general skills Literacy based one too. These booklets are to be completed over the next TWO weeks. In addition to this a topic work based activity will also be added for the children to have a go at.
As the length of time the children are have off increases, it is vital that they carry on doing the basics, including reading and spelling rainbow words and reading a book. Please carry on with these as much as you can. A copy of them can be found in the links below
Continue to take care and feel free to contact us at any time.
Becky Wigston & Emily Batt
Resources for Topic Activities Below
Click Here for life cycle of a butterfly worksheet
Click Here for Butterfly Symmetry
Click Here for Design your own Butterfly
Other resources are now attached to Topic Activities
Home Learning - 18th May 2020
Good Morning
We hope you have all had a good week and keeping well.
This week is our last week on castles, as it is half term next week we will not be adding any further work until the 1st June. More information about how this will work will follow in the coming week.
We understand that the idea of coming back to school for the children and yourselves will carry a mixture of feelings. If you would like to discuss or ask any questions please do not hesitate to get in touch.
Please click on the link below to go to this weeks home learning.
Take Care
Becky Wigston & Emily Batt
Click here for Home learning - Week Commencing 18th May 2020
This week we have been very busy
Home Learning - 11th May 2020
Good Morning
We hope you are continuing to stay well.
Continuing with our topic work, we are focusing on art.
Please click on the links below to access the work at the additional websites. remember to send in some photographs of their work for us to share.
Take Care
Becky Wigston and Emily Batt
Click here for Home Learning - Week Commencing 11th May 2020
Click here for Phonics Activity
Look at what you've been up to this week
Home Learning - 4th May 2020
This week we are continuing to look at castles with a focus on Knights and their armour.
The links below will direct you to the PowerPoint, websites and worksheets you may need.
Hope you are all continuing to be well.
Thank you to those children and parents who have sent in pictures of work, we love seeing them and will post as many as we can on to the website for all to see. Look below to see some of the fantastic work the children have been up to.
Take Care
Becky Wigston & Emily Batt
bwlbis2068@gmail.com - Becky Wigston
etlbis2068@gmail.com - Emily Batt
Click Here for Home Learning - Week Commencing 4th May 2020
Click Here for Knights Armour PowerPoint
Click Here for Knights Armour labelling sheets
Click Here for Shield Templates
Click Here for Counting in 2's
Click Here for Counting in 5's
We love seeing what you are up to ...
Home Learning
It has been fantastic to see all the hard work the children are doing at home. Below are some examples of what the children have been up to.
Keep up the hard work everyone and remember to send us pictures of what you have been up to.
Summer Term - Home learning Activities
Welcome to Term 5!
This is certainly not how we imagined to be interacting with the children or parents, but we want to reassure you that you are very much in our thoughts and want the children to know that we still care and think about them constantly.
Each week we will post work on here for the children to complete throughout the week. This is so the children can remain focused and remind themselves of what they have already been taught, we are not expecting you to teach the children anything new.
We also understand, being parents ourselves, that getting children to work at home can be tricky, so I have found short bursts through out the day can be beneficial.
The rainbow words and useful link are listed on our previous post. We have now included a link to the BBC Bitesize Daily Lesson, if you wish to use them.
If you do not have access to a printer, then please use the sheets as a guide, or simply write their answers on a piece of paper.
We would love to hear how they have got on with it and feedback is very much welcomed.
Continue to keep safe and well, hopefully we will be back to school very soon.
Becky Wigston & Emily Batt'
SCHOOL CLOSURE
Due to the present situation we have put a range of activities for the children to practice.
Please help your child read and spell their rainbow words. By the end of Year 1 they should be able to read and spell all of Rainbow word 1 list.
Rainbow words, Rainbow words 2,
In addition two sites that might be really helpful for you are;
https://www.twinkl.co.uk/search
https://www.phonicsplay.co.uk/
Both of these sites are free for parents to log in, just have fun!
Please continue to read with your child at home. They have been given additional books for them to read.
Also please see attached the letter that was sent home with a project of work to do.
Please stay safe and keep in touch, we hope that all will return to normal as quickly as possible.
Becky Wigston & Emily Batt
If you need to contact us directly please do not hesitate.
Becky Wigston - bwlbis2068@gmail.com
Emily Batt - etlbis2068@gmail.com
.
Useful resources:

Spring Term:

We all went into the hall for our stunning starter, to find out what our new topic is. We discovered a large treasure chest and wondered who it belonged to and what was in it. We found some treasure inside and hid it around the hall. Suddenly, there was a loud bang and in came lots of pirates. There were two teams of pirates, both fighting each other to discover the treasure. The Pirate Pros discovered the treasure but the Polly Pirates were not happy! They demanded a competition. All the pirates had to do three different activities to see who the best team were! They had a hoop competition, a race and had to see how many times they could bat a ball. We are all really excited to find out that our new topic is Storms and Shipwrecks about pirates, pirate ships, historical ships and shipwrecks, foods from around the world, lighthouses and so much more! This is going to be a fabulous, exciting adventure!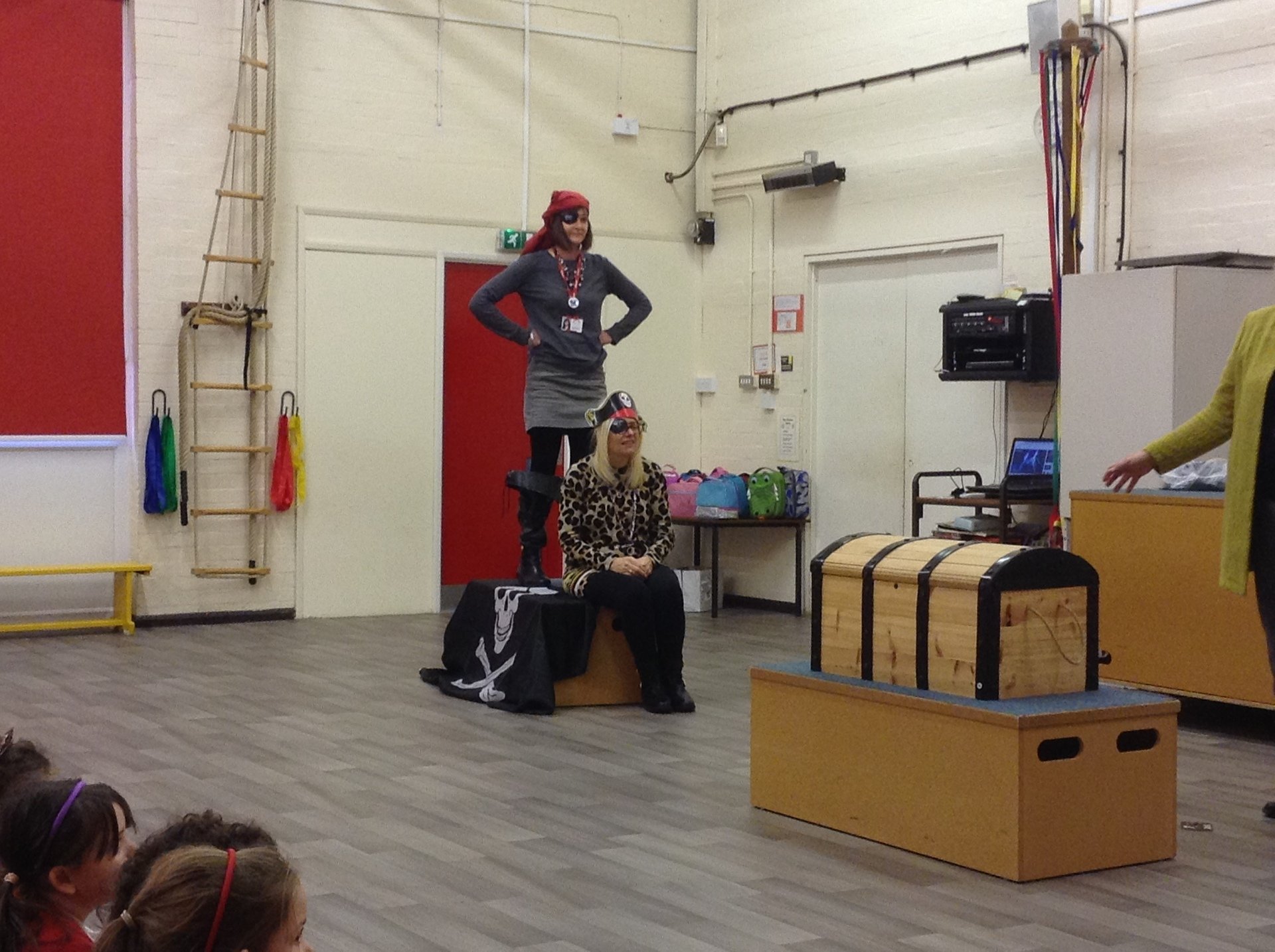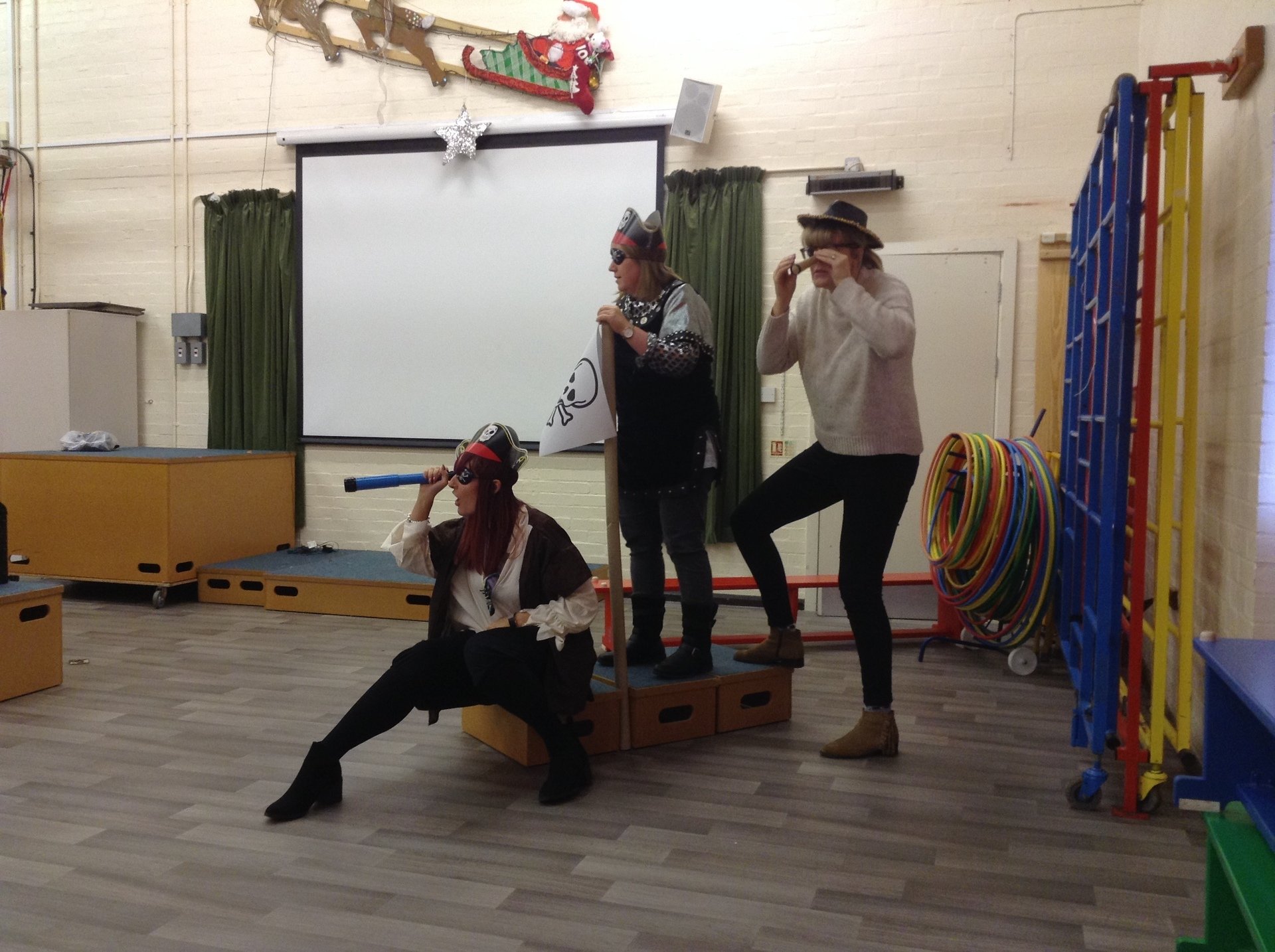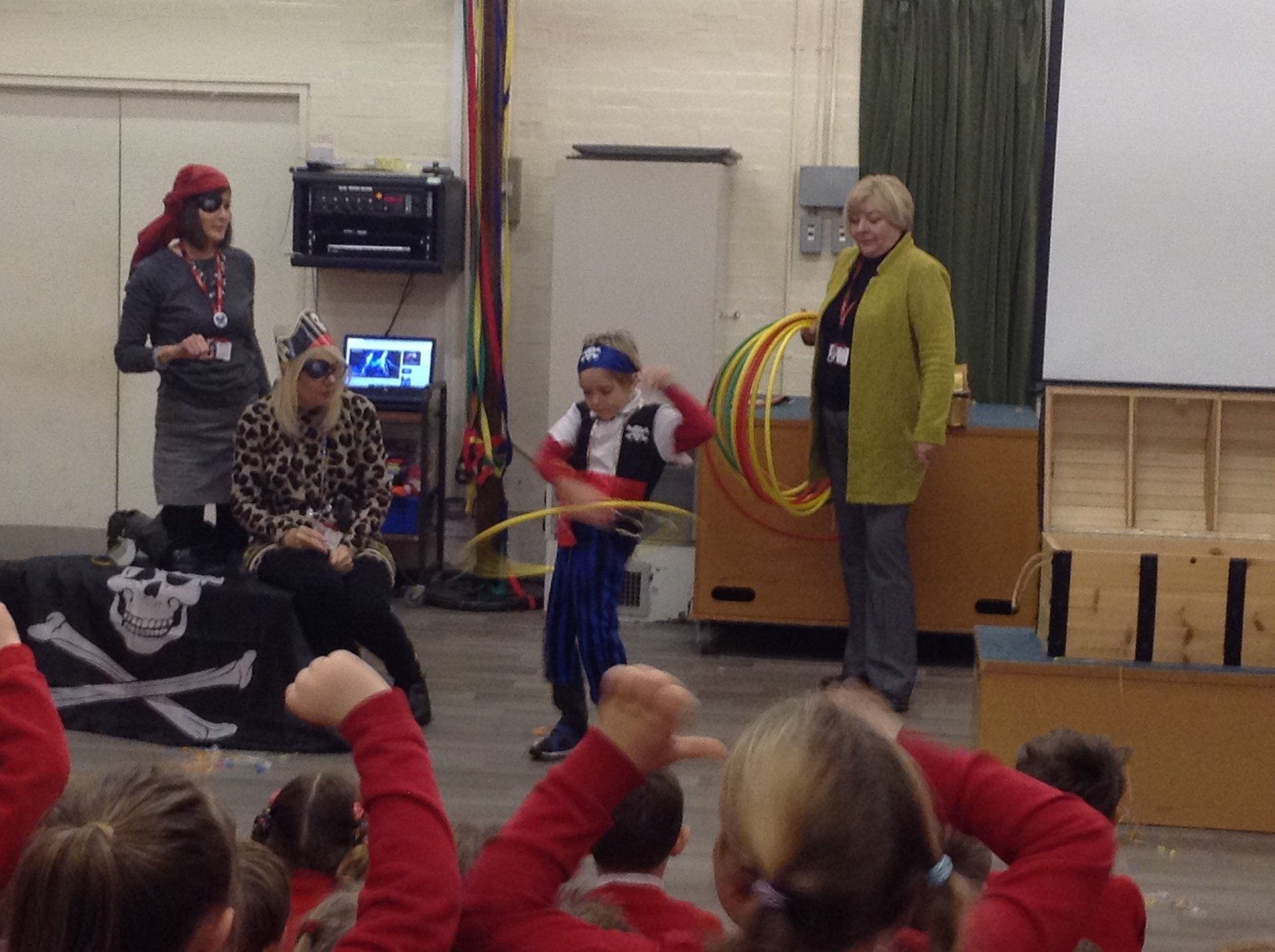 Autumn Term:

Our new topic began with a very special assembly! Mrs Burbury was welcoming all the children back to school and talking about the rules when suddenly Ice Girl blasted into the hall! Ice Girl explained how she was evil and wanted to freeze the world. Once she disappeared the beautiful Princess Pearl arrived, she had found a huge sparkly crystal. Princess Pearl had no idea where it had come from and asked the children for help. Some children thought it was magic, some thought a genie might appear and some thought it could give her special powers.
The princess was trying to work out what the crystal could do when all of sudden Ice Girl appeared and tried to steal the crystal. Ice Girl froze Princess Pearl and stole the crystal away. All the children were screaming for help for the princess. Bursting through the doors came the amazing superhero Super Wigston! She discovered the frozen princess and the evil Ice Girl with the crystal and realised she needed to act quickly. Super Wigston and Ice Girl had a fight and Super Wigston managed to get back the crystal. However, Ice Girl had already kidnapped Princess Pearl and ran away.
Super Wigston's special assistant came to her rescue. Together they managed to track down Ice Girl and Princess Pearl. Super Wigston used her Special bubble blower to melt the Ice Girl and unfreeze the princess. The day was saved by the best superhero!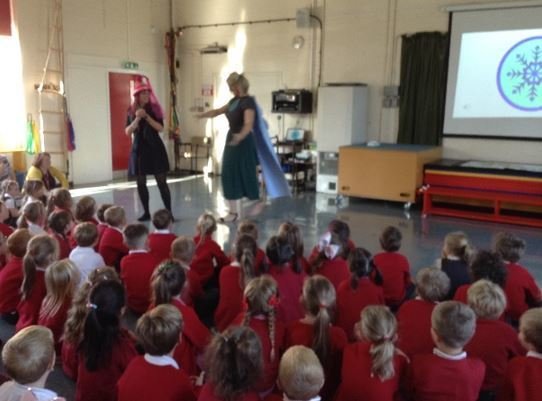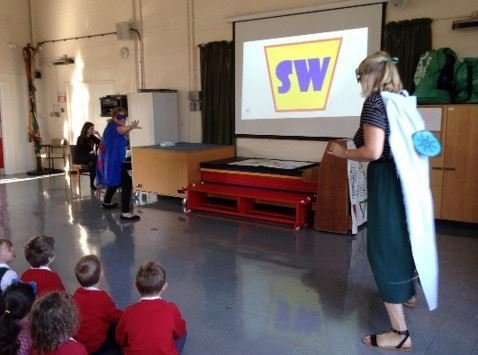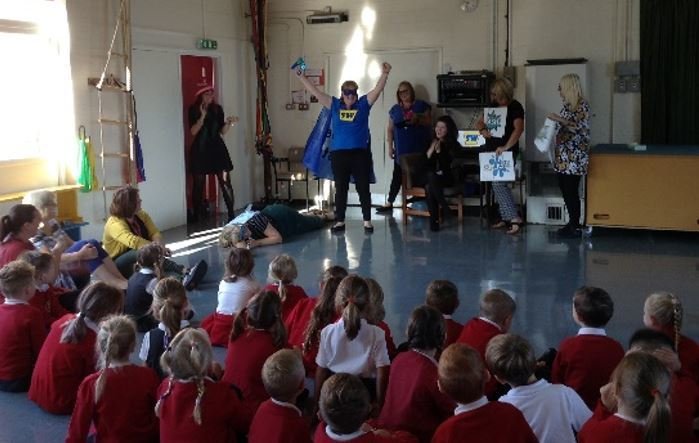 We had a visit from Bugman who brought lots of fascinating creatures with him. He told us all about where they live, what they eat and any special powers they have such as camouflage or super sense of smell. We had opportunities to look at them closely and touch them if we were feeling brave. What a fantastic visit!
Green Class photos: