Purple Passion Fruit Class

Welcome to the Purple Passion Fruit Class! Taught by Miss Hipwell.
Purple Passion fruit class will be having their forest school sessions after half term. Please see the attached form for dates.
Special Person!
Every week we choose someone to be our special person. Our special person gets to do all the important jobs for the class throughout the whole week. All the children sit in a circle and each give a different reason as to why they think our special person is so special!
This week our special person is Olivia!
She is special because;
She is a good friend, she follows the golden rules, she is a good role model, she is beautiful, she plays with me, she is always smiling, she plays with me, she is always on the green face, she is my best friend, she is nice to everyone, she is kind, she is friends with everyone, she makes people laugh, she always tries her best and she is caring!
Well done Olivia!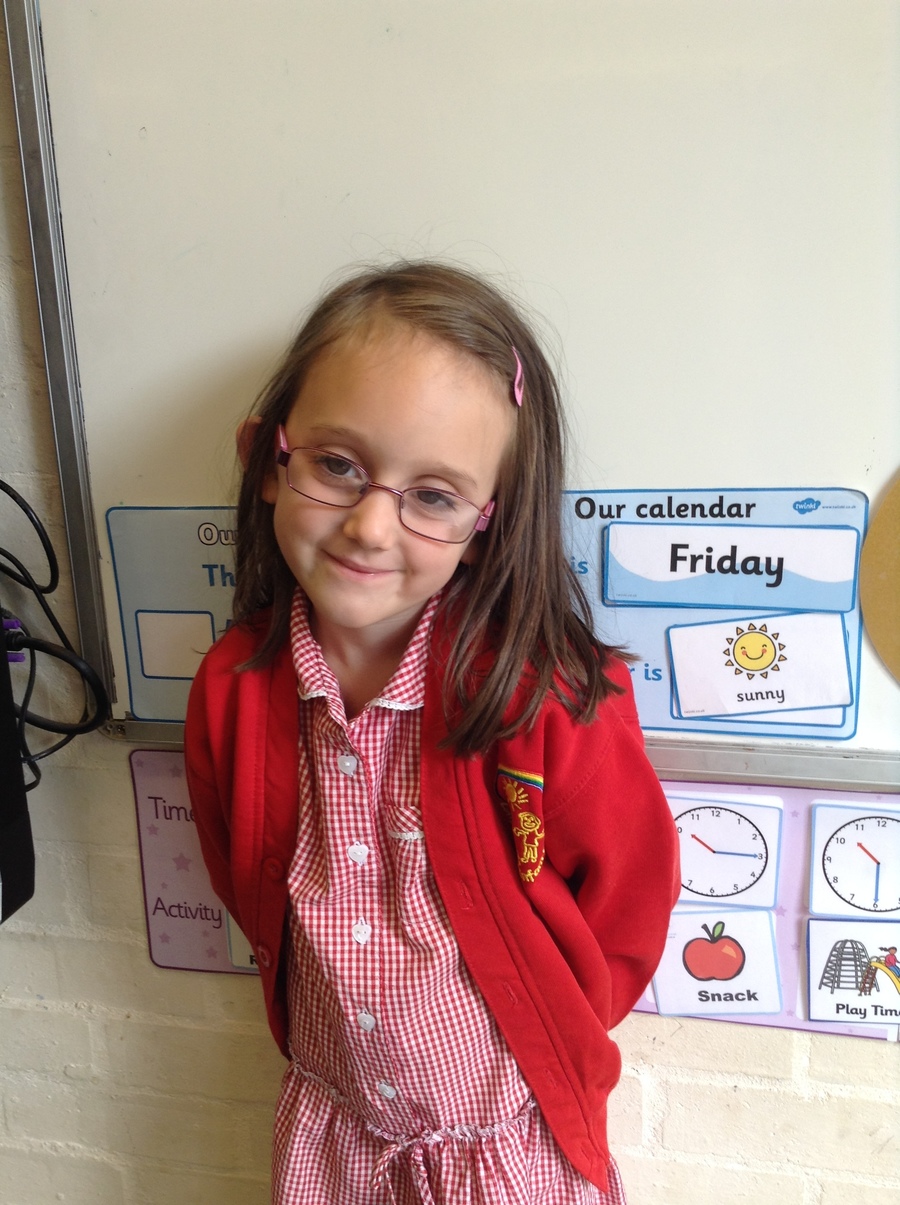 Instructions
This week in literacy we have been looking at instructional writing. First the children watched and listened to instructions on how make a jam sandwich. Then they worked in pairs to give each other bossy instructions to make their own jam sandwiches!
May Day!
Over the past few weeks the children have been working extremely hard to learn a may pole dance and a country dance for may day. They put on their best outfits and showed everyone just how hard they have worked! They even got friends and families to join in on their country dance.
Fruit Faces!
The children have been talking about healthy food and things that are good for us. We have spoken lots about different kinds of fruit and where they come from. We have read the book Handa's Surprise and talked about the different fruits in the story.
Today the children looked at different kinds of fruit faces. First they designed their own using the fruit we had in the classroom. Next they used lots of chopped up fruit to make their own fruit face and eat it! Finally we all tried bits of different fruit, some that we had never tried before, like guava and grapefruit!
Here is what we made!
Yum Yum!
Welcome to our brand new and exciting topic 'Yum Yum!'
We started our new topic by having lots of different activities around the school! We made big scarecrows using the school uniform and straw, and we made smaller scarecrows out of split pins. We measured out the ingredients to make a pizza and chose our favourite toppings.
We also had big stacks of straw on the playground and had bikes to race around them like an obstacle course. We learnt a line dance and showed everyone at the end of the day.
We planted lots of seeds so that we can grow vegetables and different flowers during the rest of the topic.
In the play ground there was a huge tractor and we all got to have a look inside and see how big it was! It was fantastic!
To find out more about our new topic please see our Newsletter, Overview and Homework attached.
World book day!
The children all dressed up as their favourite characters from world book day. They told each other what their favourite book was and why. It was a day filled with fun filled story activities.
Puppets!
We have read the book "The Gruffalo" and decided to design our own puppets. This week we used felt to make them. We had to draw round a template then cut carefully to create the body of our puppets. Then using smaller bits of felt we had to cut out the details for our puppets. Here are the finished products!
Marvellous Middle!
We have been very lucky to have Dave come into school and show us some wonderful animals that we have been looking at in our topic. We brought in two different types of owls, a Harris hawk and a rat! We got to find out lots about the animals, like what they eat and how they catch their food. We also looked at the difference between an owl feather and an eagle feather and learned about why they are so important to birds.
Dave let the owls fly across the hall and they swooped down very low! Some of us were even lucky enough to put the glove on and let them fly to us!
We have been looking at lots of traditional tales. After reading "The Gingerbread Man" we decided to make our own. We had to measure and weigh out all the ingredients and then follow the recipe ans instructions on how to make them. After that we then decorated them, luckily none of them ran away!
We have been looking at the artist Andy Goldsworthy who creates art with natural resources. We have been into the playground and collected our own natural materials and worked in groups to create our own art in Andy Goldsworthy style.
A Walk through the Trees!
Welcome to our new and exciting topic "A Walk through the Trees." To start our new topic off we went for a walk down to Mill Park. When we arrived we had lots of fun activities to do like making music with things we could find, going on a scavenger hunt, designing clothes for children using all the materials we could find at the park and measuring how tall the were! We then had to find scrolls hidden around the park which had different words on, once we found the words we put them in the right order to discover our new topic!
Please see the Homework, Planning overview and Spring Newsletter attached.
This week the children have been designing and making alien puppets. They used paper plates to paint and create their aliens flying saucer! Here are the finished products.
Space Centre!
The children enjoyed their trip to the space centre. They saw some big rockets, read lots of facts about the planets, and even watched a film about astronauts and their time in space. The children loved exploring, playing and learning more about their topic. Everyone had lots of fun!
Literacy!
Over the past few weeks the children have worked very hard finding out facts about all of the different planets. They have used information books, and iPad's to help them find information. They worked in small groups to create a poster about their planet and presented them to the rest of the class, filled with lots of fun facts! After making posters the children used all the information to create their own fact booklet about all of the planets!
Maths!
This term in maths the children have been busy with lots of work! They have been doubling and halving numbers, addition and subtraction, telling the time and much more! They have been using resources all around the classroom to help them with their maths. Here are some pictures of them hard at work.
We have been experimenting with clay over the past few weeks. We had to decide whether we wanted to make a star or a planet with the clay. Then using different tools we decorated them with different patterns. Once they were dry we painted them!
Reach for the Stars!
Welcome to our new topic Reach for the Stars! We started our new and exciting topic by hearing some loud bangs when we were in the hall. After sending some children to investigate we discovered a huge rocket and astronaut outside. We all went to have a look and then gathered back in the hall. Once we were in the hall we heard a message from Arnie the astronaut, he told us that our new topic was all about space and asked us what we would like to find out about! We are all so excited to discover more about our new topic.
Please find attached the Year 1 Termly Overview, Year 1 Newsletter and the Year 1 Homework.