Term 6 - Amazing Animals
Our new topic began when we found some cages in the classroom with zoo animals inside! The children have enjoyed being zoo keepers and carrying out jobs such as feeding and cleaning the animals.

Term 5 - The Missing Crown
Mrs Turley came into our classrooms on the first morning to tell us that a special scroll had been delivered for us in school. The children had all sorts of wonderful guesses as to what it could be. When we opened it, we found that Jed, a boy from Storyland had written to us, to ask us for help in becoming a knight. We began investigating right away.
After a couple of weeks we wrote a letter back to Jed telling him to:
Be brave
Wear armour
Ride a horse
Live in castle
We also practised jousting in the outdoor area.
Unexpectedly a castle appeared in our outdoor area and we could hear crying coming from inside. A brave child went to investigate by going through the safety tape that the site supervisor had put around the area.
There was a queen wearing a crumpled dress! "I have lost my crown and now I have to wear this awful hat. Can you help me please?" She then knighted two brave children "Arise Sir Felix and arise Sir Keider!"
Since the Queen's visit we have been really busy. We have deisgned crowns that we thought the queen might like as she told us she was coming back to choose the best one to take back to Storyland with her. Here are some of our designs - we had to really plan ahead and think of what we might want to use when we actually did the making.
On Thursday 17th May we had a suprise visit from the Queen. "I have come to choose a crown" she told the children. So we decided to have a parade for her in the playground. After a lot of 'ums and ahs' she decided on Maya's crown. She gave Maya a pink ring as a prize and was delighted when she tried the crown on and it fitted. The children were really excited to receive a personal invitation from her, to attend a banquet at school next Thursday as a way of saying 'thank you' to the children for making her happy again with a new crown!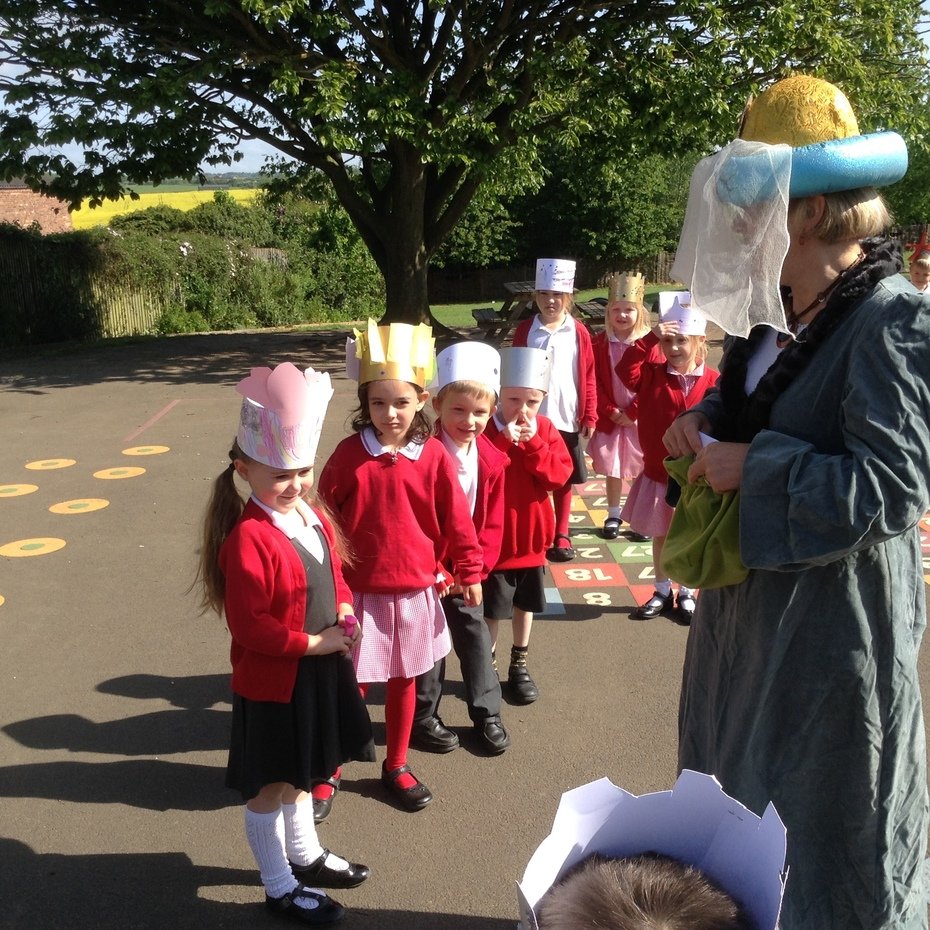 We finished off our topic with a fantastic assembly! We are so proud of the children for showing their work with great confidence.

Term 3 and 4 - Chilly Chilly!
We have had a wonderful start to our Chilly Chilly topic! We returned to cold classrooms after our Christmas holiday. There were swirls on the floor and windows, snowflakes hanging from the ceiling and blocks of ice on the tables! We found a book outside and it turned out Jack Frost had been. We read a bit of the book from him and found a silver ticket inviting us to go ice skating! So after lunch we got on a coach and went to Beckworth Emporium. We had a fantastic time and we became much more confident and speedy on the ice. We were really brave.
To end our topic we had an art cafe to celebrate the beginning of Spring because we had found a snowdrop in the story 'Here comes Jack Frost' that we had been using to stimulate our learning. We produced lots of pictures of snowdrops using, collage materials, paint and chalk and then our families celebrated our work with a cup of tea and a slice of cake! We had previously voted for a charity that we wanted to send a donation to and the majority vote went to Birmingham Children's Hospital. We raised an amazing £97.22 - Thank you.
Look at the leaflet about our topic by clicking on the link below:

Term 2 - Let's Celebrate
We created wonderful firework pictures after Bonfire night. We decided whether we wanted to use chalk or paint. Some children got the chance to make large splatter paintings outside.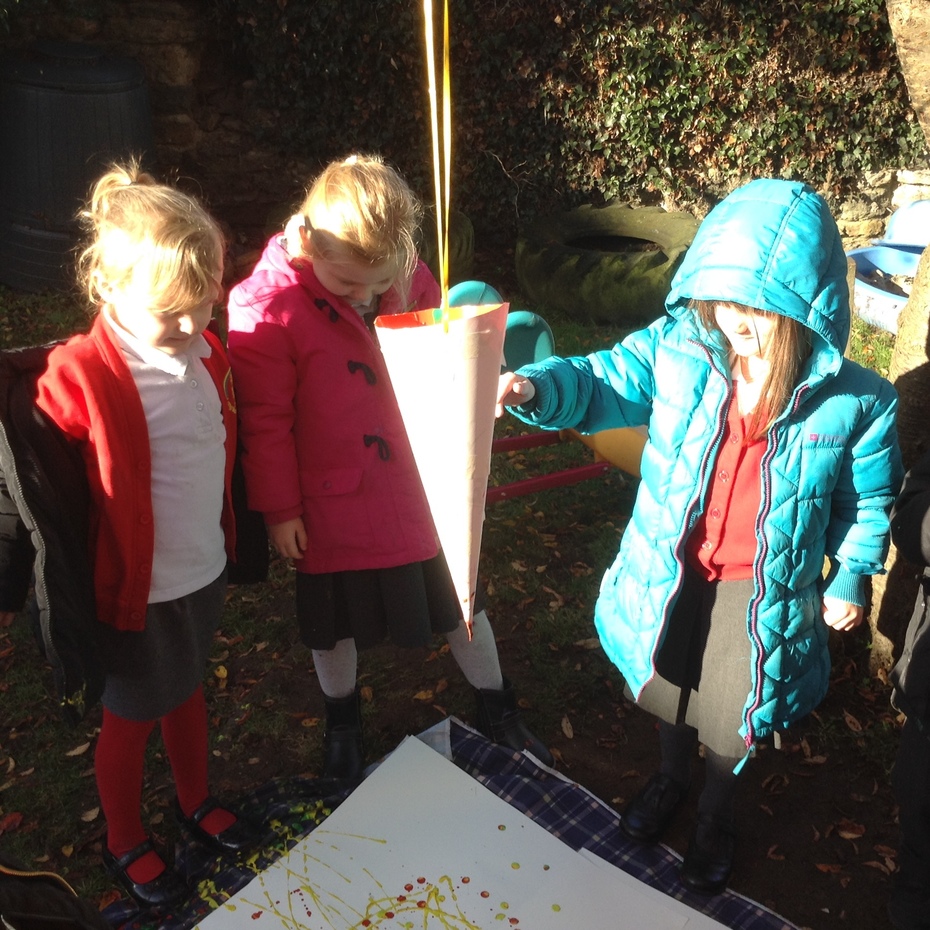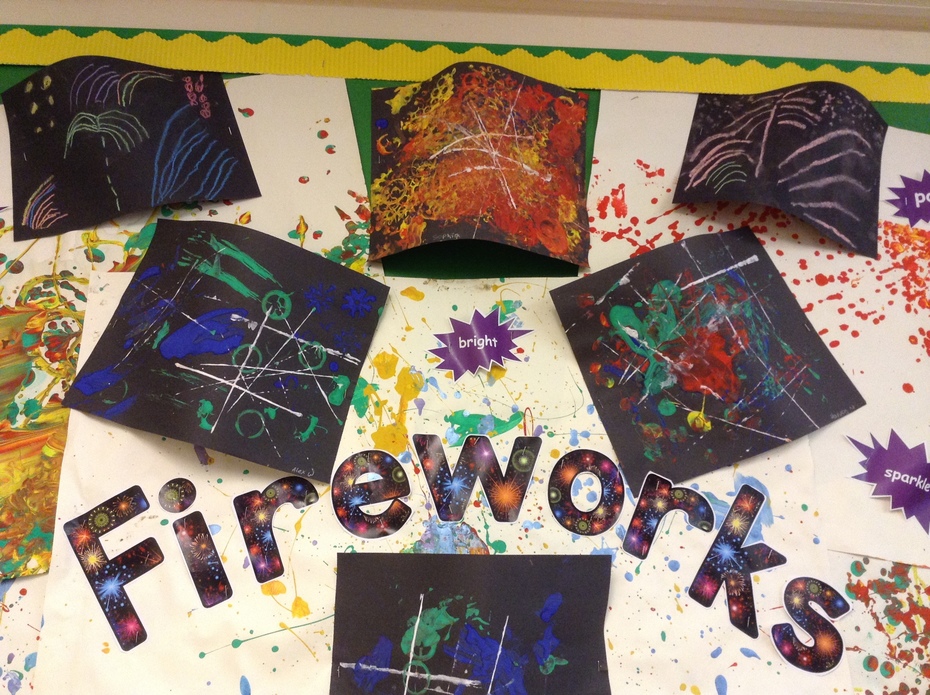 We found Stick Man in our outdoor area! The children decided that we should bring him inside.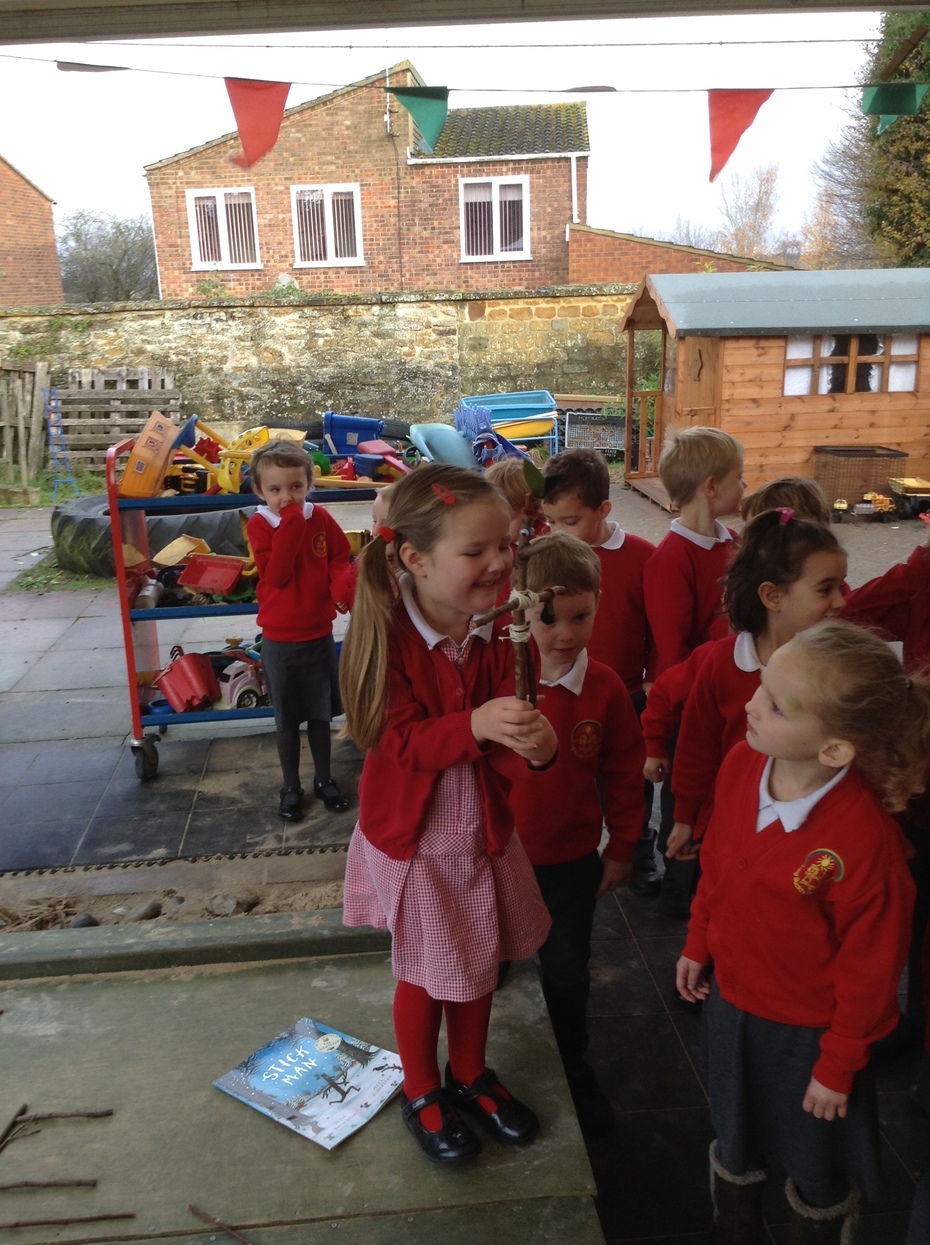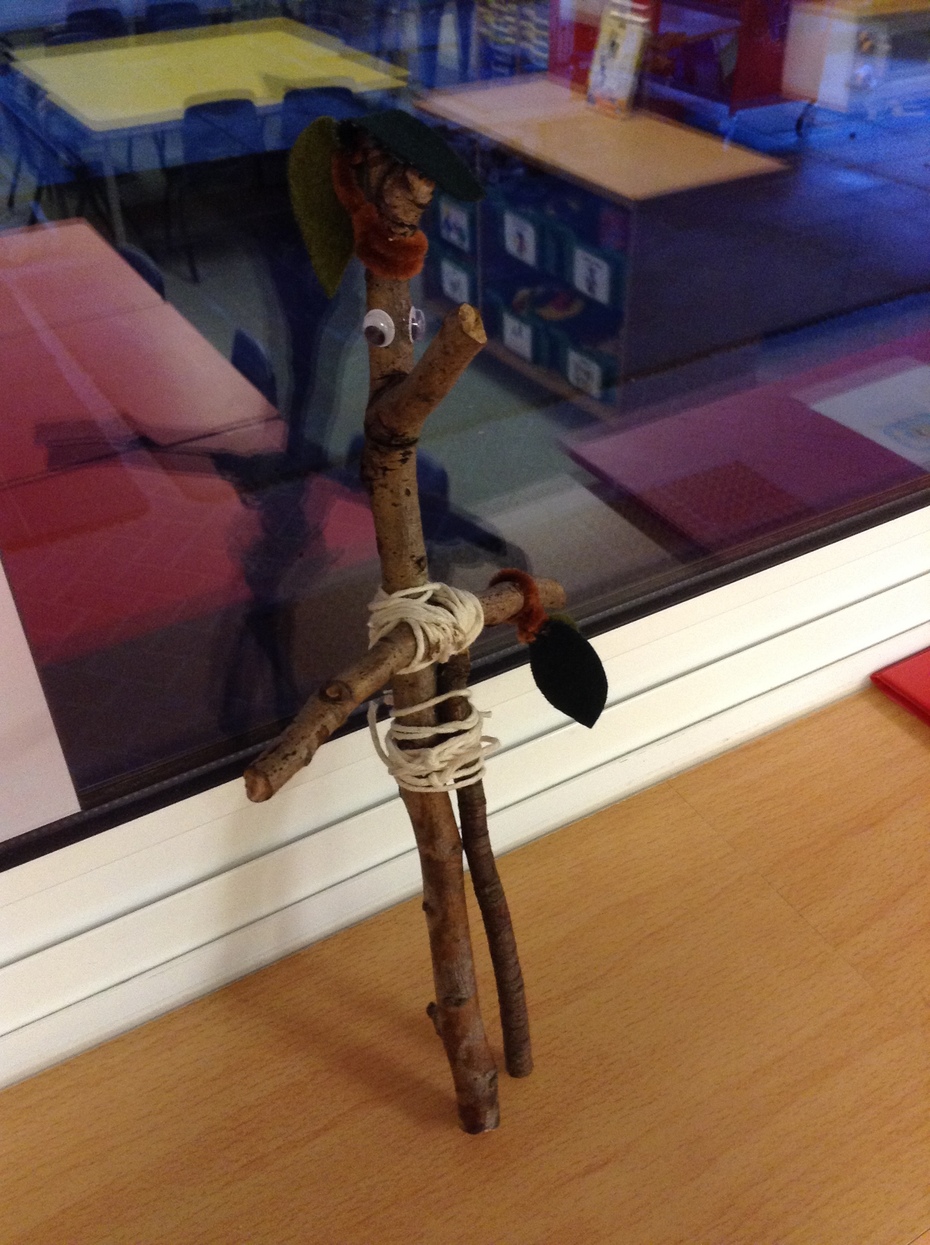 In the outdoor area, the children had a go at building houses for Stick Man to help keep him warm.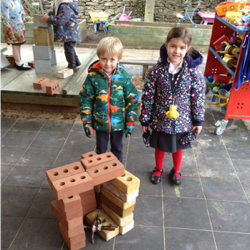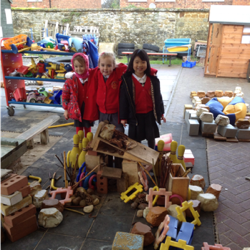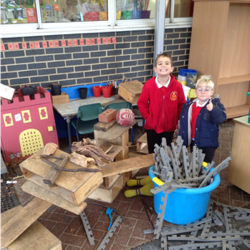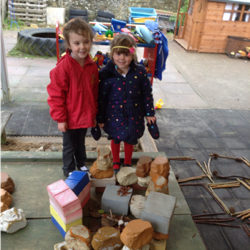 The children have also had a go at making their very own Stick Men! Now we have a big pile of them! The children have learnt about different joining techniques such as tying string, using glue and sellotape.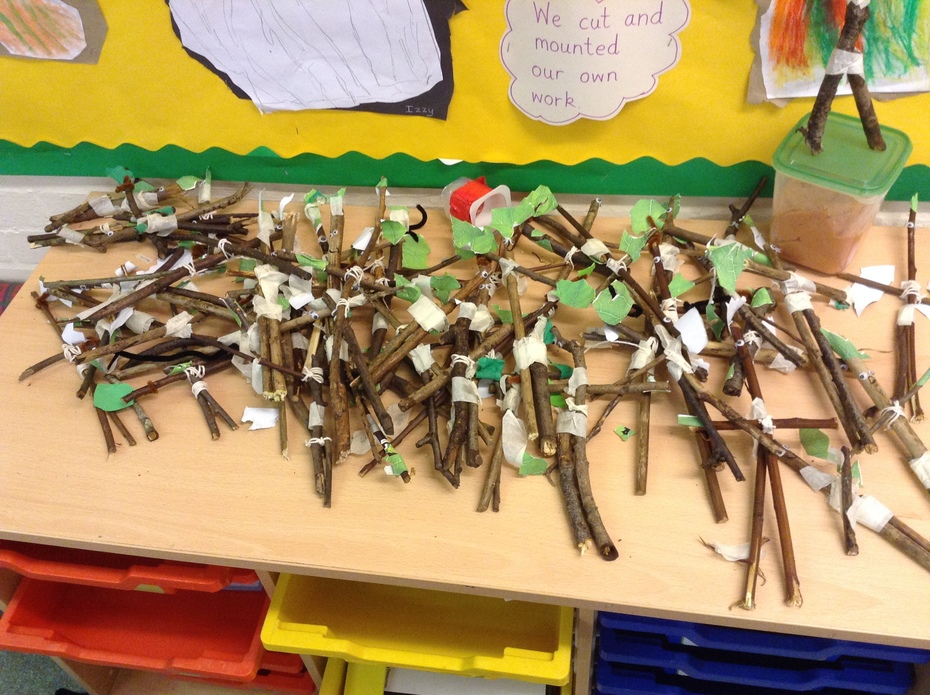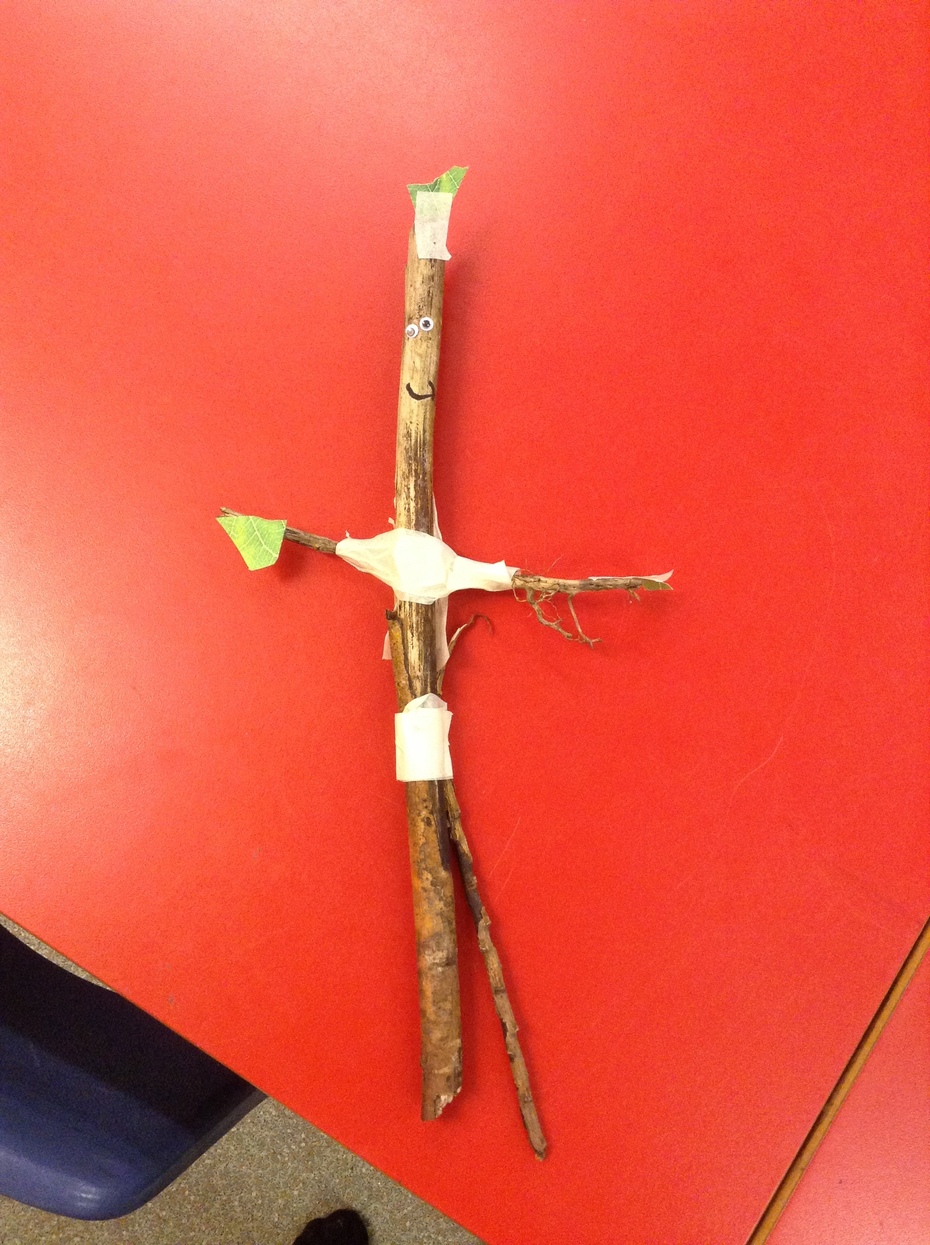 The children brought in homework about trees. They drew and decorated a tree and labelled it with the different parts.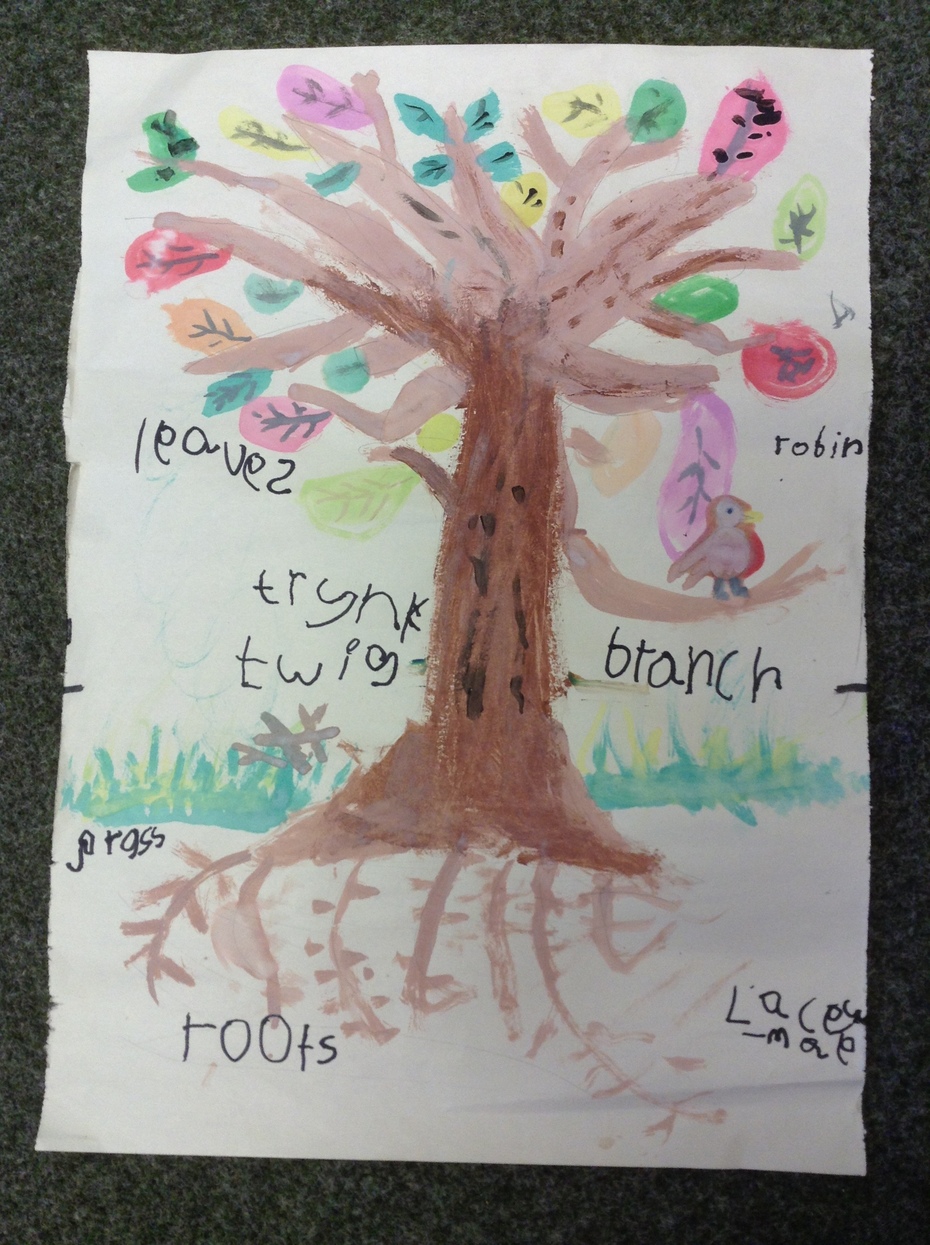 The children have been joining in the repeated refrain in 'Stick Man' and thinking about the rhyming words they could hear. Then the children had a go at writing their own version of 'Humpty Dumpty' using rhyming words.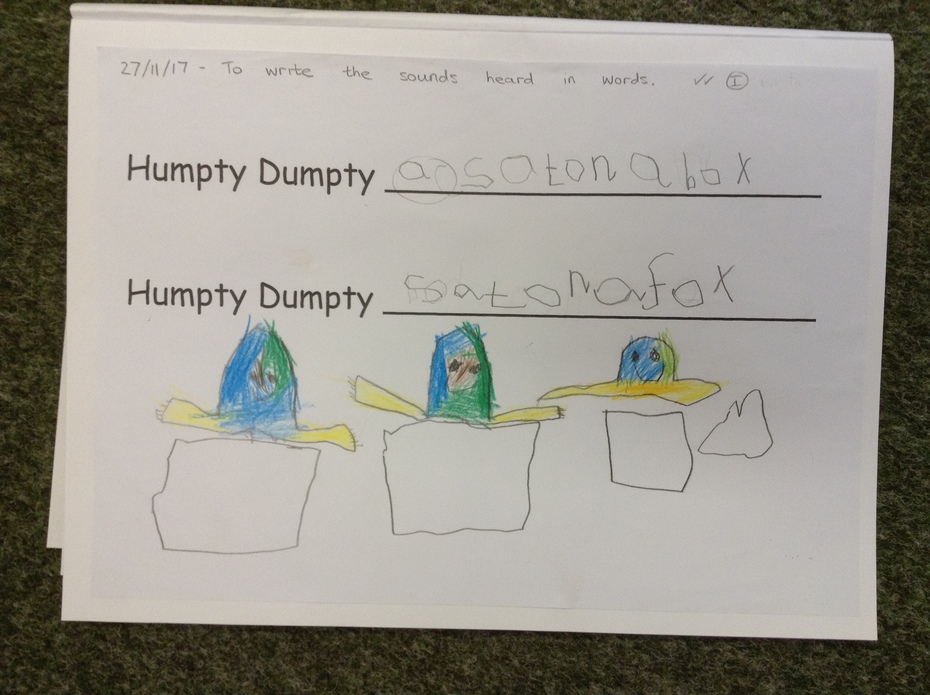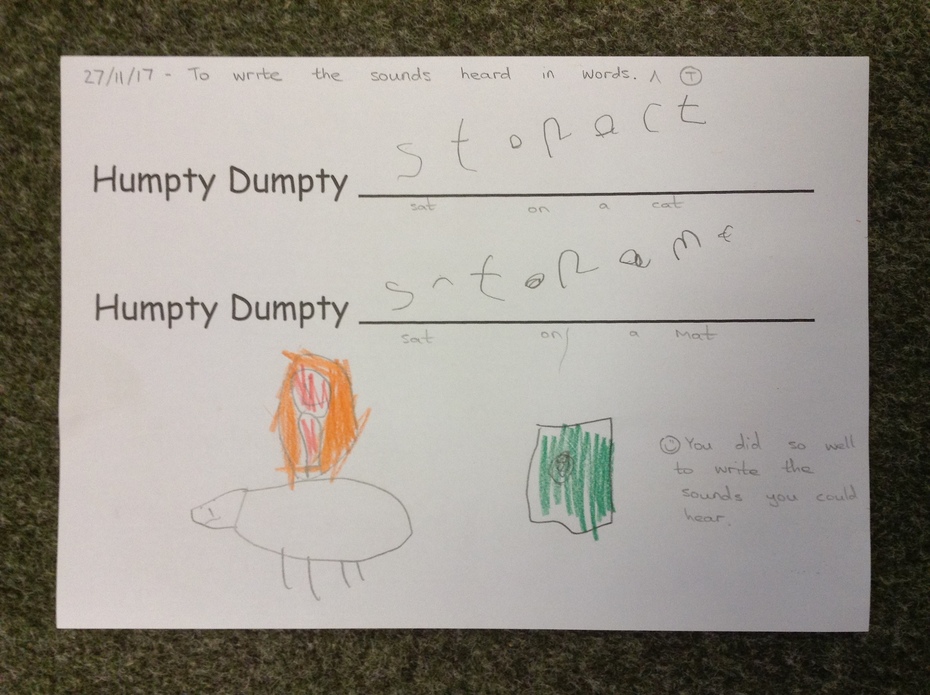 In the book 'Stick Man' has to beware of lots of dangerous things. We thought about things that are dangerous for us and how we could keep safe.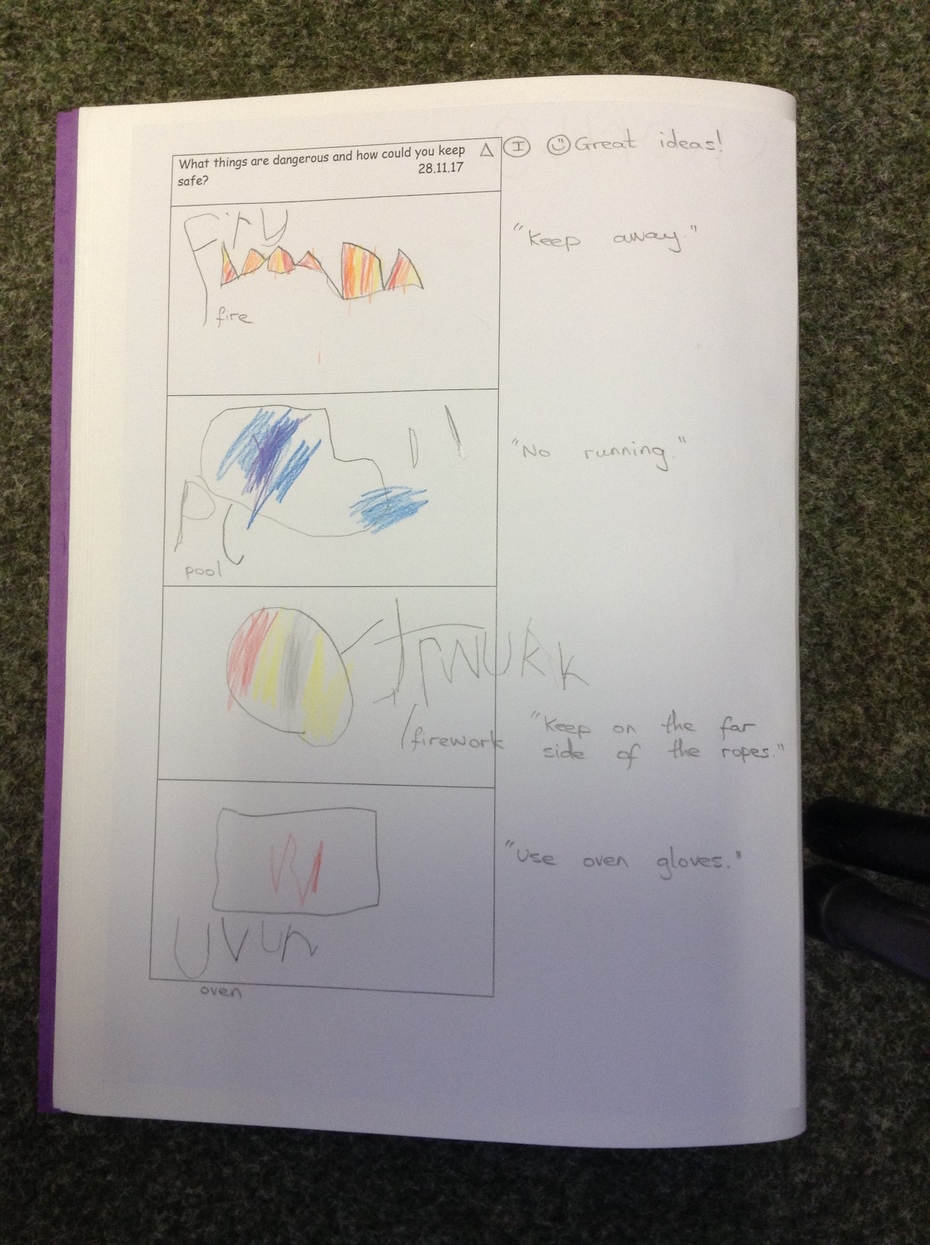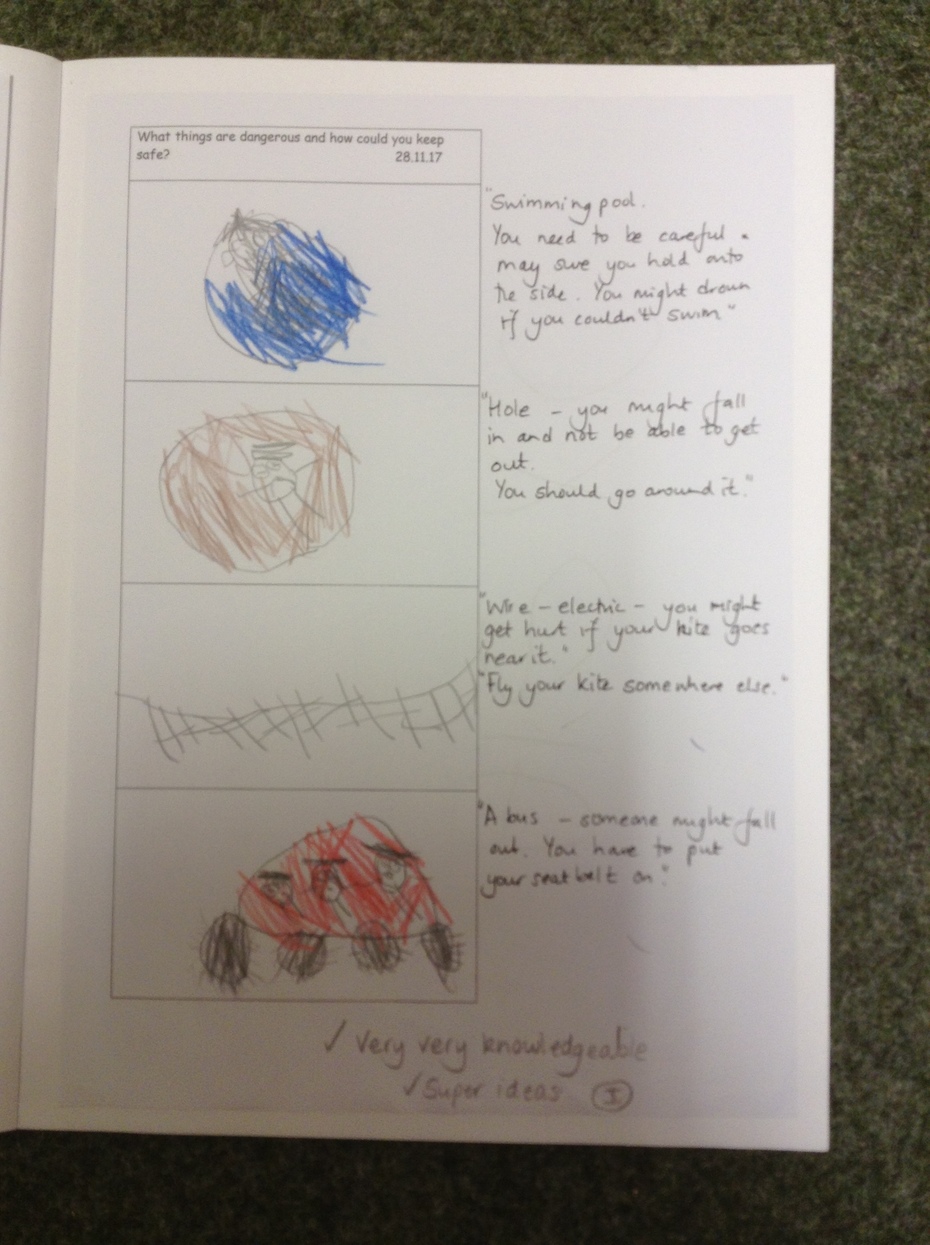 Look at the leaflet about our topic by clicking on the link below:

Term 1 - Magical Me
We have settled in to school really well and we have been getting to know the school and each other. We have made some funny pineapple and grape pictures and displayed them on our walls!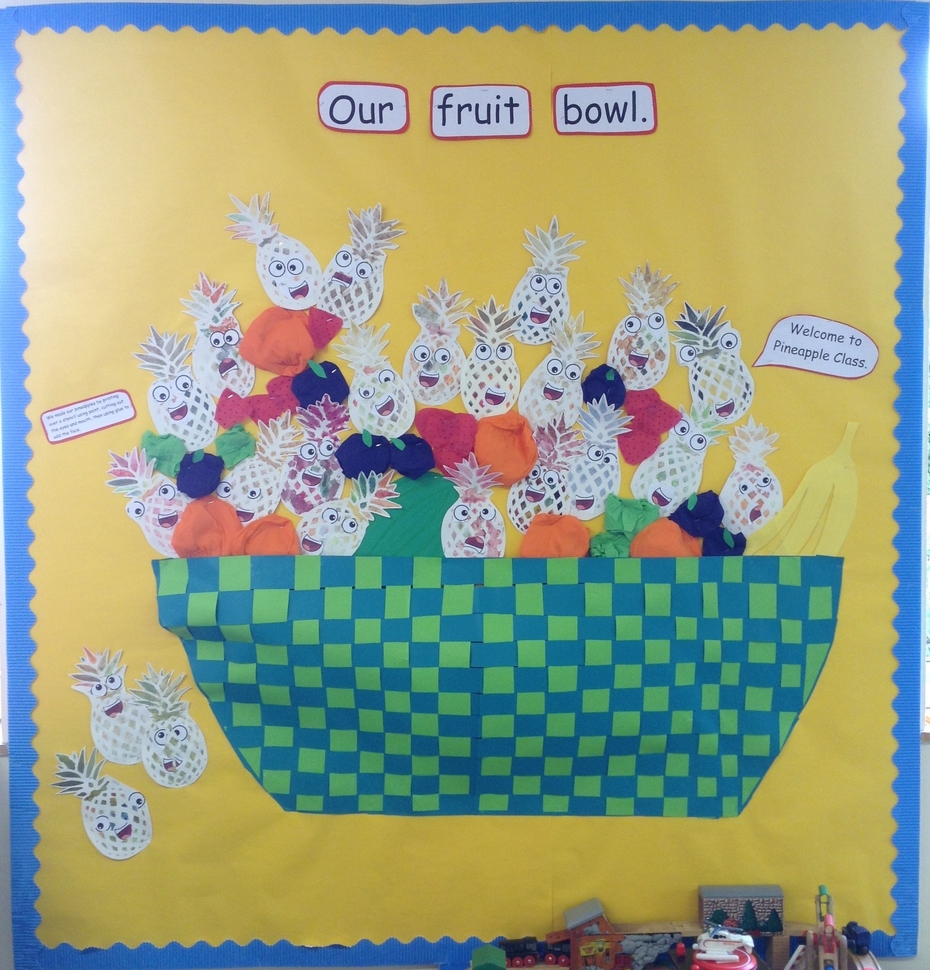 We had a wonderful trip out to Mill Park. We sang an autumn song and threw leaves in the air, made leaf kebabs, made animals using natural resources, played with the parachute and we did bark rubbings with wax crayons.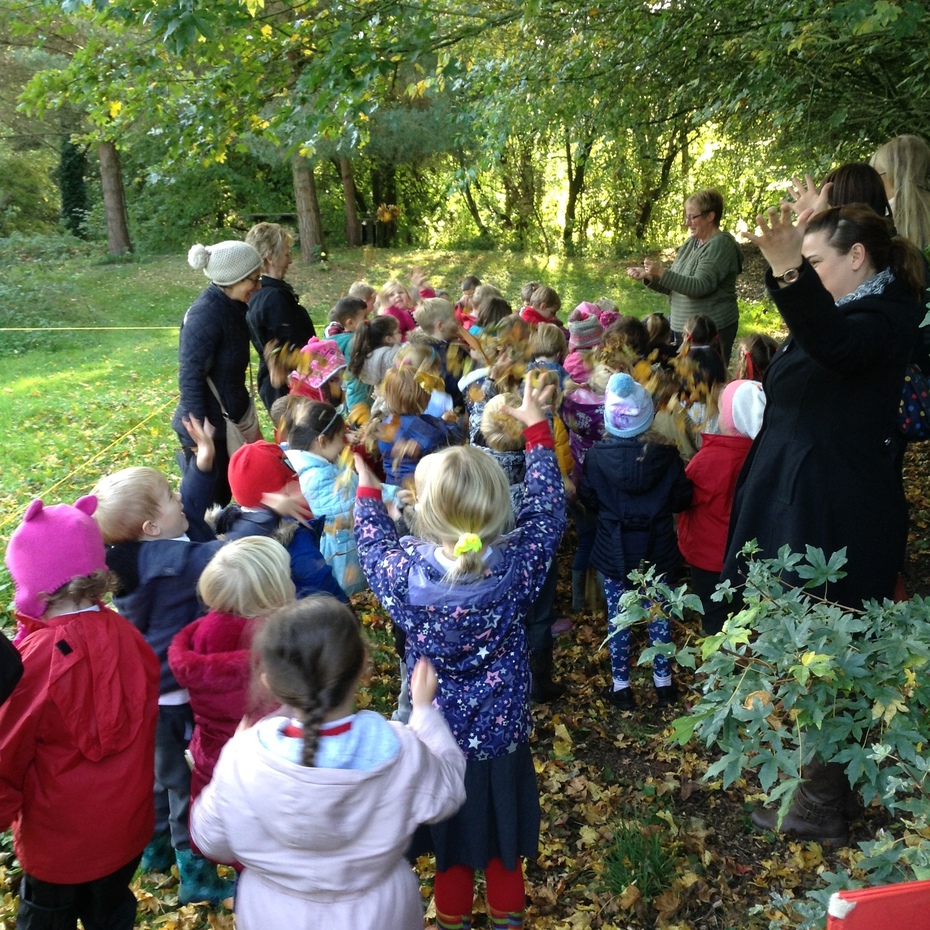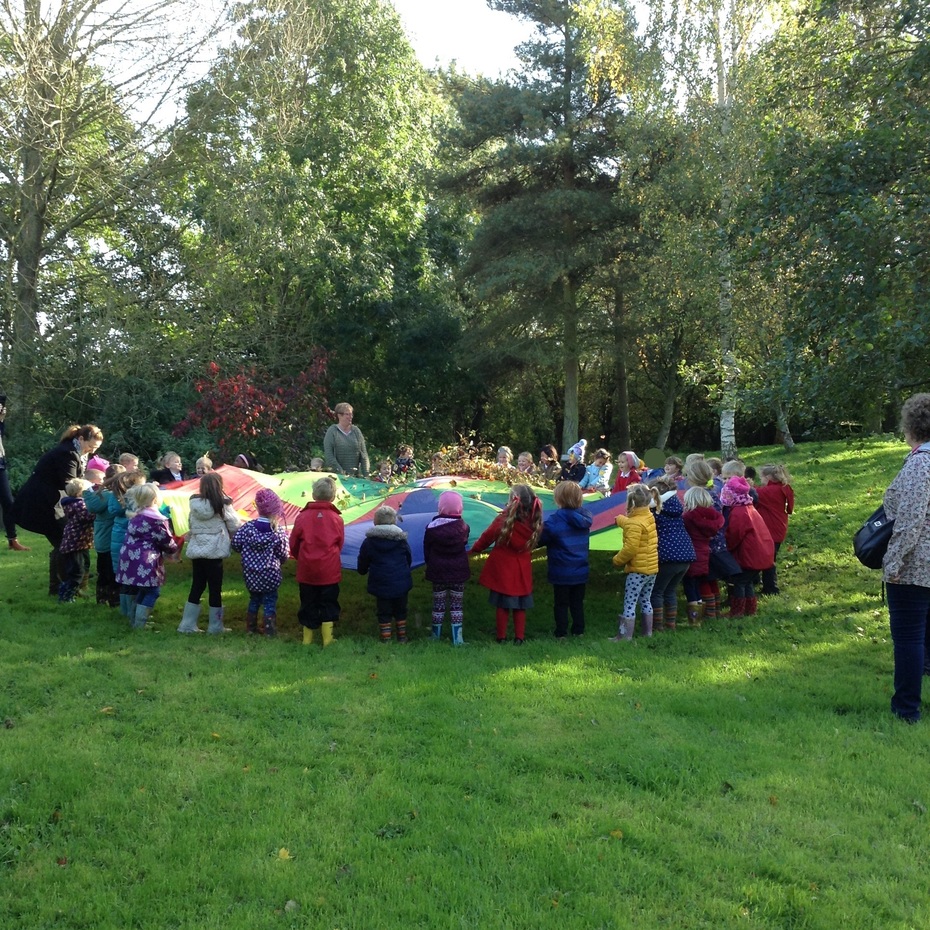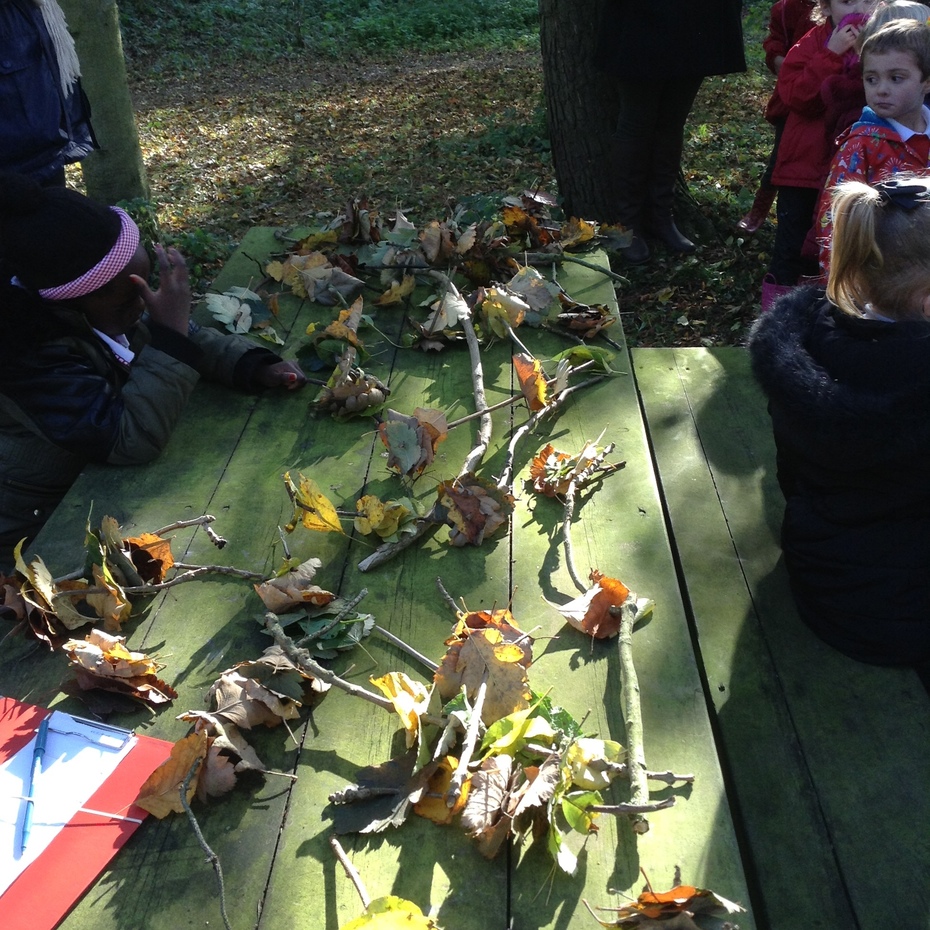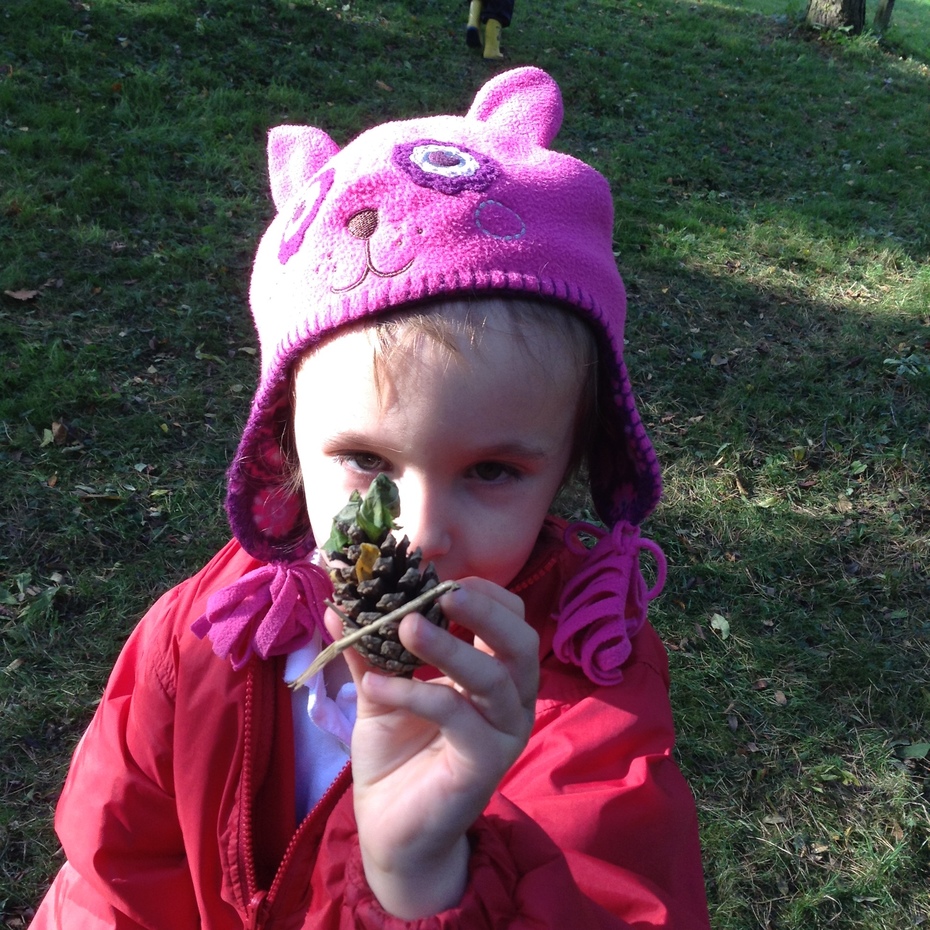 We have had lots of fun in Forest School this term!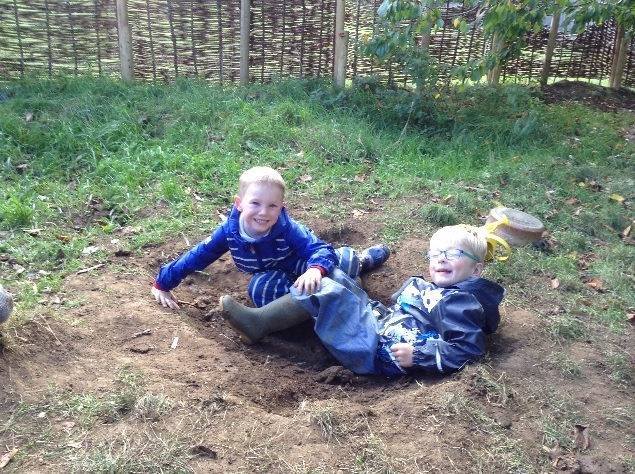 We enjoyed exploring the new playground games!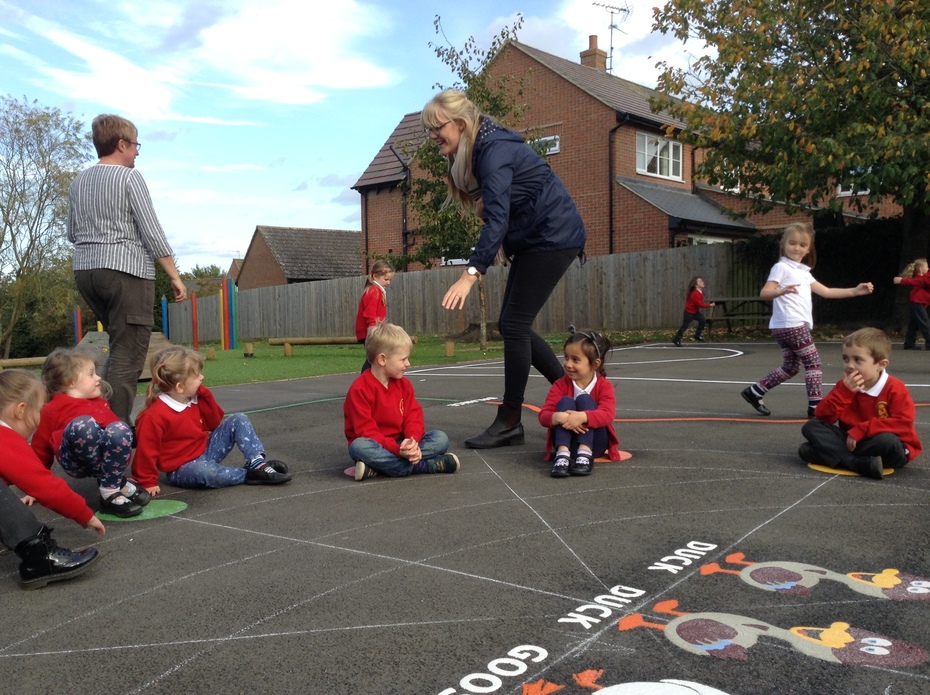 Look at the leaflet about our topic by clicking on the link below:

Ways you can help your child at home:
You could sing along to the Jolly Phonics songs.
Play on the

Phonics Play games together.
Practise the key words in your child's reading record.
Read to your child or hear them read for 5 minutes every day.
Look at the topic leaflets for activities to do at home.
Practice your child's targets with them.
Anything you do with your child at home makes a huge difference and we really appreciate your support!